Computer Based Interactive Training
Computer Based Interactive Training (CBIT) is also referred to as e-learning. It is a learning format that is the preferred choice for individualized training.
From the inauguration of PLATO in the 1960s by Control Data Corporation, computer based education has continually grown and matured. Russell Associates initially coined the term, Computer Based Interactive Training or CBIT. Incorporating the word, "interactive" in the description was important to Russell Associates because of the impact of interactivity in learning and retention. At the same time other developers referred to this type of delivery as computer based training or CBT.
Whichever name you prefer - computer based training, computer based interactive training, online computer training, e-learning, web based training, or something else, this method of delivery has proven to increase retention, reduce training time and is cost-effective.
Russell Associates' computer based training actively engages all the senses in the learning process. When more of the senses are engaged, information is absorbed more rapidly. Thus, audio, text, video, graphics, and animation are applied appropriately. Using this approach, combined with modern learning strategies of education and interactive tutorial and testing, can train in half the time of instructor-led or text-based programs. Retention is increased by 75% or more.
Content is educationally engineered to accomplish specific objectives. The concept starts with the basics, having learners advance through progressively more complex subject matter in easy-to-understand modules. Information is thoroughly researched to ensure accuracy and presented in terminology that is appropriate for the business/industry and the learner's language skill level. Content can also be translated into other languages, as needed.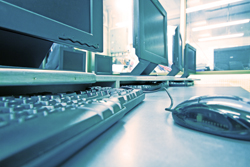 Companies are enthusiastic about e-learning because it can substantially reduce total training expenditures. It provides flexibility in training delivery and is available 24/7; training is consistent and content can be customized to the procedures, terminology and requirements of a specific company or industry, bringing the skills of new employees to a higher level faster.
Learners appreciate CBIT because it allows them to be productive faster, they learn the policies and procedures specific to the company quicker, and they learn their job skills better. CBIT greatly reduces downtime / lost time while other employees train and monitor inexperienced personnel, plus CBIT is always available for refresher training.